BS-601 模拟示波器 二手示波器 销售维修
带宽20MHz 双通道
采用高亮度示波管
垂直灵敏度 5 mV - 20V/DIV
最高扫速 0.2μs/DIV
体积 17x30x36 cm
重量 7kg
主要特点
1) Component Tester
2) 高灵敏度 X-Y 模拟
3) Z axis (intensity modulation)
4) TV VIDEO SYNC Filter 电视信号同步滤波器
5) High frequency rejection filter in the trigger circuit

COMPONENT TESTER is the special circuit with which a single component or components in or out of actual circuit boardcan be easily tested requiring no power to drive the circuit.
The display shows FAULTS of components, size of a component value, and characteristics of components, and half-deadcomponents under a dynamic test.
详细性能

垂直轴 VERTICAL DEFLECTION
Deflection Factor 5mV to 20V/DIV on 12 ranges in 1-2-5 step with fine control.
带宽 Bandwidth
DC: DC to 20MHz(-3dB)
AC: 10Hz to 20MHz(-3dB)
上升时间 Risetime Less than 17.5ns
过冲 Overshoot Less than 3%
Input Inpedance 1MΩ shouted by 20pF ± 3pF
Max input Voltage 300V DC + AC peak or 600Vp-p
工作模式 Operating Modes Ch-A, CH-B, DUAL and ADD
Chop Frequency 200kHz approx.
通道隔离度 Channel Separation Better than 60dB at 1 kHz
CH-B Polarity can be inverted
水平轴 HORIZONTAL DEFLECTION
XY模式 X-Y Operation X-Y mode is selected by SWEEP TIME/DIV switch
CH-A: Y axis
CH-B: X axis
Intensity Modulalion Z Axis: TTL Level (3Vp-p - 50V) + bright, -dark.

时基 TIME BASE
Type Automatic and triggered. In automatic mode, sweep is obtained without input signal.
Sweep Time 0.2μs to 0.5s/DIV on 20 ranges in 1-2-5 step with fine control and X-Y
Magnifier X5 at all ranges
Linearity Less than 3%

触发 TRIGGERING
灵敏度 Sensitivity
INT: 1 DIV or more
EXT: 1 Vp-p or more
触发源 Source INT, CH-B, LINE or EXT
Triggering Level Positive and Negative, continuously variable level control Pull for AUTO
Range 20Hz to 20MHz or more
Sync AC, HF Rej, TV(each + or -)
At TV Sync TV-H(Line) and TV-V(Frame) sync are switched automatically by SWEEP TIME/DIV switch.
TV-V: 0.5s to 0.1ms/DIV
TV-H: 50ms to 0.2ms/DIV

其它特性 OTHER SPECIFICATIONS
显像管高压 CRT HV APPROX-2KV
校准电压 Calibration Voltage 0.5Vp-p ±5%, 1kHz Square Wave
---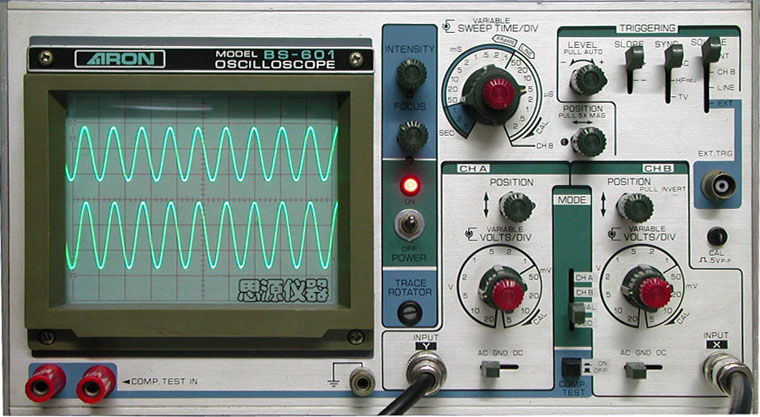 ---
电话: 132- 4173- 5460 , 邮箱: 52634729@QQ.com